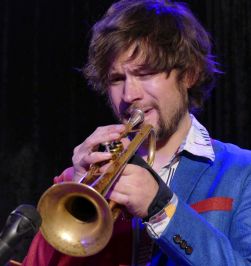 Matthias Schriefl, born 1981 grew up in Maria Rain, located at the edge of the Alps. From 2000 until 2005 he studied in Cologne and Amsterdam. Ever since 2006 he organizes the concert series Jazz-O-Rama at the Art-theater in Cologne. Followed by the tours with his Band Shreefpunk as "Rising Star", of the European Concert Hall Organization from 2008 until 2010 in Europe's great concert halls. After this tour, he decided to experience foremost with alpine music. In 2012, ACT released a series of "Young German Jazz", with the repeatedly awarded album "Six, Alps & Jazz". From then on, new
CD-recordings
with various bands in which he, as musician and composer wrote the compositions, fitting his fellow musicians like neoprene suits. Schriefl, is mostly living in Cologne and at times in the German Alpine region. His musical curiosity is leading him time and again to lengthy educational trips through India and various African and South-American countries where he studied their music traditions. In 2016, his versatile engagement was rewarded with the World-Music Award RUTH in Rudolstadt. In 2019 he won the New German Jazz Prize twice in Mannheim, the Band Prize with his band Shreefpunk plus Strings and the Soloist Prize and is thus still the last reigning winner of that competition. He knows and loves big venues but values also the regular concert locations in smaller, rural areas where he presents his jazz to the local audiences.
---
Awards and honors:
• 2006 WDR-Jazz-award for improvisation
• 2008 Announced as Rising Star", recommended by the Cologne Philharmonic
• 2008 NRW Promotion Price for compositions, conducting, instrument music
• 2012 German records award
• 2016 World music award RUTH in
• 2019 neuer deutscher Jazzpreis - Band-Prize with Shreefpunk and Soloist-Prize
• 2020 sponsorship BTHVN 2020 - project "Jazz, Jam & Beethoven"
• 2021 sponsorship Musikfonds - project "Geläut"
---
"Schriefls art offers adventure and invites us to a new way of listening"
The Jury Promotion Price NRW for composition, leadership, instrumental-music
---
"Powerful and of beautiful sound plus cultivated ensemble playing", FAZ
---
a view more press commentaries you can find here ->pdf
---