Schlagerparty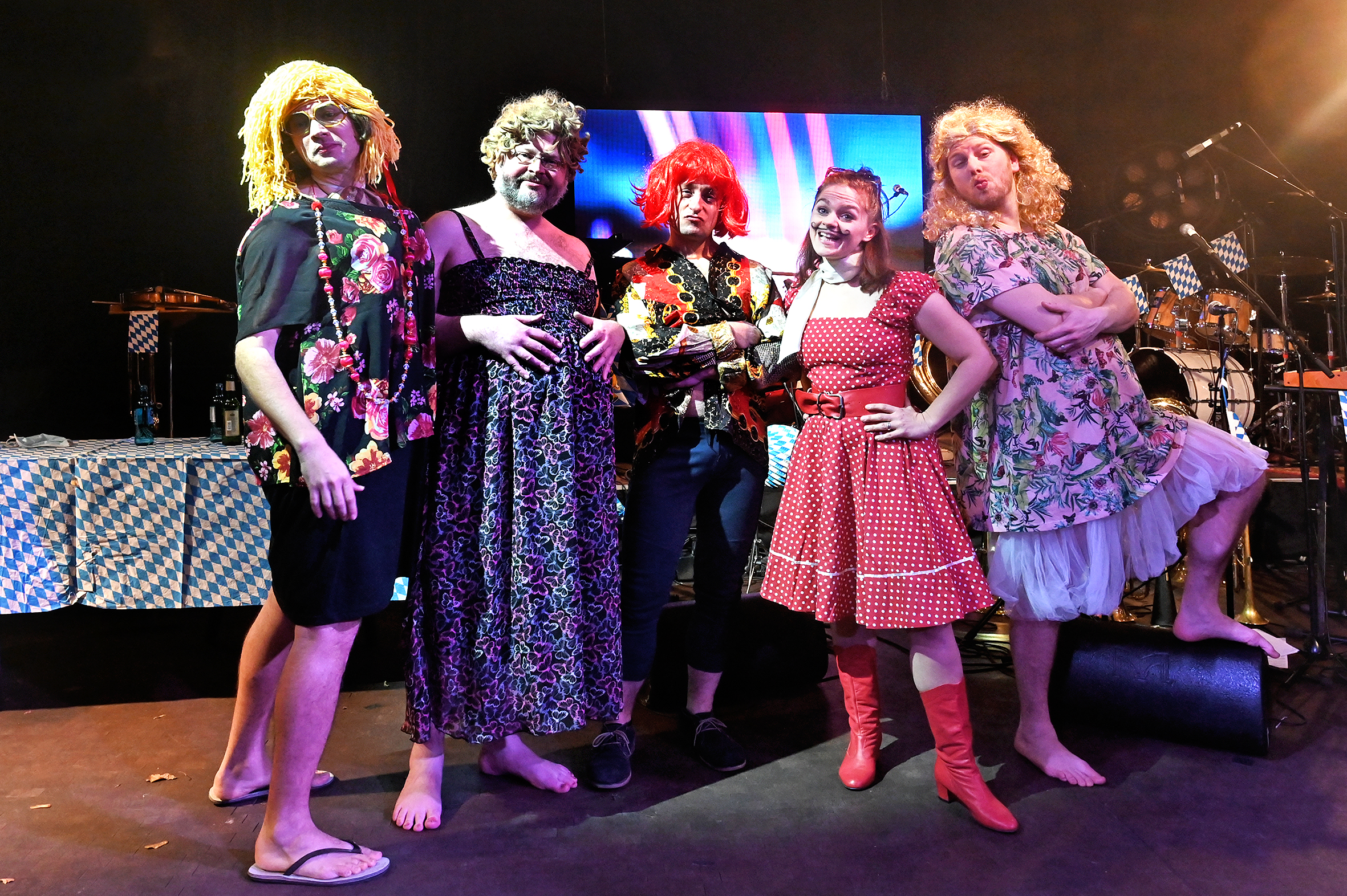 "With selected pieces from Bossa Nova up to David Hasselhoff he chased wildly through the style centrifuge and performed the definitely funniest concert." Oliver Hochkeppel, NMZ
---
Yes indeed, with this band, life is a musical request program. With many of these German hits one discovers a totally new experience since they are saturated with a refinement in language as well as music, hardly ever found in Radio Hits.
Matthias Schriefl's new Hit Parade Band meets every request. Three multi-instrument-genies with a singer. Also participating is the Danish drummer, bassist and singer, Kalle Mathiesen as well as the Tyrolian multi-instrumentalist, Michael Hornek, piano, bass, drums, and among other, part of: Probrass and Klaus Doldinger. They sing and let the biggest hits since the Thirties come alive. Many of those hits in German language are well remembered while others are surprising in their unexpected refinement of language as well as music. The Band's name Hit-parade is therefore very fitting: It is these musicians greatest endeavor to rescue these German Hits while leading them into their deserved channel.
From Caterina Valente, Roy Black and David Hasselhoff there are no exceptions to interpret them in a highly unconventional, spontaneous and humorous manner by those four musicians. And because of this and for all of those who feel adventurous, is exactly this concert great fun! It's full of joy, unconventional, highly energetic and yet simply beautiful and even in a nostalgic way swinging.
Please bring your humor!
---
"Operating here are not only first class genius musicians who find the balance between ironic cuts and true sentiments, streaming melodies and tricky groove changes, creative chaos and perfection." Allgäuer Zeitung
---
Musicians:
Matthias Schriefl (trumpet, accordeon, flugelhorn, tuba, euphonium, keyboard, vocals)
Simon Rummel / Michael Hornek (piano, keys, euphonium, drums vocals)
Alex Morsey (double base, E-Bass, singing saw, sousaphone, voc)
Sandra Klinkhammer (vocals, clarinet, double base)
Philipp Zdebel / Kalle Mathiesen (drums, vocals)
---