Netnakisum & Matthias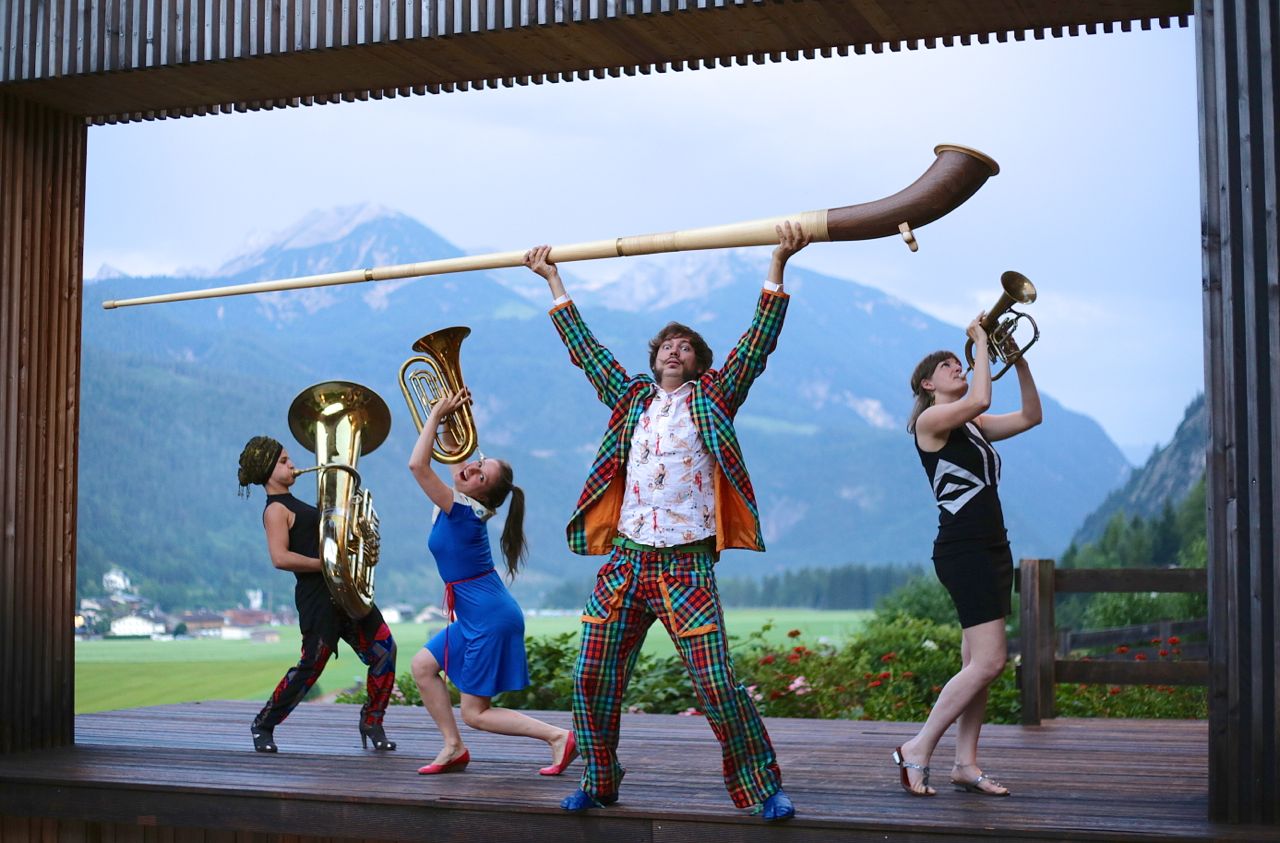 "Despite their love for folk music, they never think in categories but prefer to produce absolutely great music." TBS
---
Groovy yodel, soul-rock escapades and flower jazz … Trumpet, Violin, Viola, Cello and lots of fun when playing. The combined sound and synergy of three string and one brass instruments produce an unexpected world of sounds. ...
... While grooving, they sound like a Black Soul Band and during the Rock numbers, the four musicians turn into the young Rolling Stones. When yodeling they appear as four mountain flowers who celebrate the beauty of the Creation. The four musicians, very close in understanding their musical profession, which may be the secret of their success. Every single sound is a true joy in playing, far beyond their mutual concerts. "Anything else would be a waste of time", the four musicians state. .
NETNAKISUM is a singing string trio, closely connected to Folk music although not tied to it. The trio, meanwhile famous for their sound creation far beyond our sun system. Now, Matthias Schriefl has entered their Orbit and has linked to it as if he had been hanging on the same umbilical cord. Schriefl, born in Maria-Rain, grew up in a musical family, the same as the three ladies from Styria who love Classic, Folk music and Jazz. After studying music in Munich, Amsterdam, Cologne, South-India, Africa and other Alpine regions Schriefl is now living in Cologne. From there he plans his bandleader tours through the entire Galaxy.
Together the four musicians operate on balancing acts between groovy yodeling, soul rock escapades, flower jazz, polkas and other international dance music styles … direct, bold, earnest, fresh and with an essentially necessary portion of profoundness. Matthias Schriefl's, compositions for the NETNAKISUM project fit the musicians like neoprene suits … they feel comfortable when tightly melted with their instrument and with Schriefl's compositional blood pressure. Certainly more organic than any composting!
---
Musicians:
Claudia Schwab (vl, voc), Marie-Theres Härtel (viola, voc), DeeLinde (cello, voc), Matthias Schriefl (brass instruments, voc)
---