Shreefpunk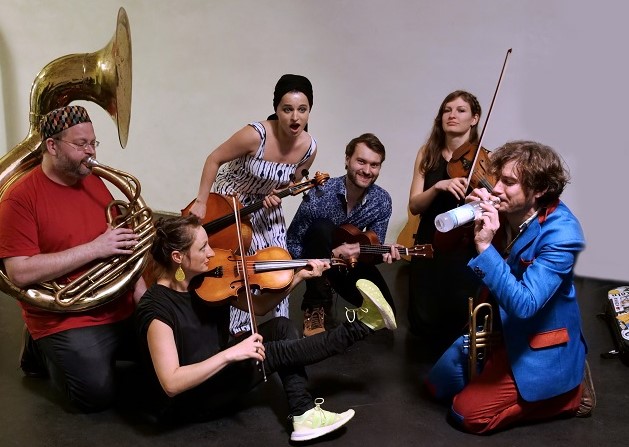 The "Enfant terrible of German Jazz" Goethe-Institut
---
Shreefpunk is a working band founded in 2003 by Matthias Schriefl. On the prior to their last CD, they played with Django Bates and for their last one they engaged a full Big Band. Among other, the musicians like to play unplugged and at other times with classical string ensembles. ...
… Meanwhile, Shreefpunk toured through almost entire Europe, parts of West-Africa and Australia, while staging their concerts in numerous big concert- and philharmonic halls. Shreefpunk plus Big Band with two drummers was released in autumn of 2017. And on their latest CD "Europa", Shreefpunk performed as rhythm group while the Big Band included excellent and prominent soloists of the Cologne Jazz scene.
Shreefpunk's performances are presently foremost without drums and without electronic amplifiers, consequently unplugged. This way, their own compositions are clearly recognized by its poly-rhythmic charm and pulsate grooves. Shreefpunk is a style creating formation in the European Jazz scene. The "Enfant terrible of German Jazz" (Goethe-Institute) presents time and again a totally new repertoire.
The core of the band is a trio with trumpet, bass and guitar, to be extended upon requirement.
---
Shreefpunk is available in the following formations:
• unplugged (Trio)
• unplugged trio + string trio (sextet)
• 2 drums (quintet)
• Big Band
---
Musicians:
Matthias Schriefl (tp, flh, bflh, tuba, alphorn, voc), Alex Eckert (git, ukulele, voc), Alex Morsey (b, tuba, voc)
---
Trio Shreefpunk unplugged
**** Shreefpunk plus Strings
---
Shreefpunk plus Big Band