Amithias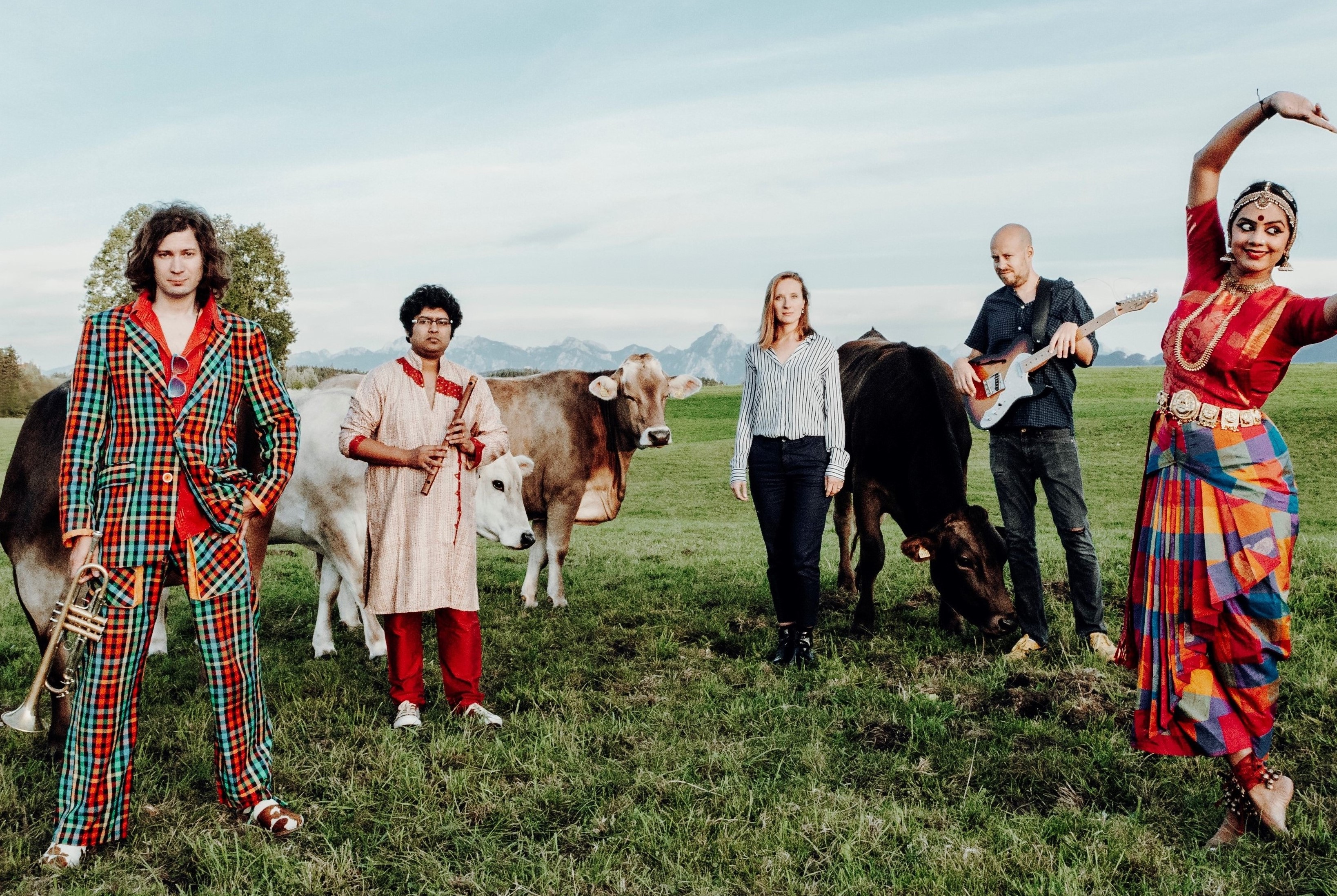 " Certainly your ears and soul need these kinds of music to bring harmony through arts among today's people." BC Manjunath
---
Schriefl, when still a youngster, was invited by the famous saxophone player, Charlie Mariano for a mutual cooperation with the Karnataka College of Percussion, which led Schriefl to a more intensive study of Indian music. …
… In Bangalore, some years ago, it turned into a very intensive friendship with a band of two bandleaders: Amith Nadig and Matthias Schriefl. The Band's musicians come from Columbia, India, and Germany (Upper Alps) – what a mixture – true world music! Amith Nadig, a virtuous flute player, who had already performed with the sub-continent's best classic musicians. However, the tackling with his own and complex culture was not satisfying enough for Amith Nadig: Here, he also plays among other, Samba, Blues and Mambo pieces and he even yodels in an Indian way. The 3 musicians are constantly trying to discover the connections of jazz harmony and Indian Ragas as well as mutual grooves around the globe. It's fascinating, when the complex of South-Indian rhythms and European harmony is created. Due to the herewith demanded mutual research, their own horizons must be set aside. Added are the inter actions by the charming dancer who dances with the musicians and sometimes are the Alpine sounds accompanied by Indian gestures and dancing steps. True friendships, even far beyond the music are created. A virtuous meeting which in this manner appears to be enjoyed only in a heavenly environment, offers here a borderless and an unconditional joy for music.
---
If we play with a dancer, You can add this sentence:
Also Niveditha Sharma, a Carnatic dancer who likes to break out of her genre. The Carnatic art of dance is known to strongly express with their faces and mimic any human emotions.
---
"For the first time I felt convinced by the fusion Indian-Jazz." Ashish Sankrityayan
---
"From Bavarian and Swiss Alps to how a morning in Bangalore sounds and feels like, the music of Amithias Project is varied and culturally diverse." Indien Garima Arora/Deccan Herald
---
"Passionate "Schriefling" – world music from between the Alps and India" Haller Tagblatt
---
Sabhash -> Artikel
The New Indian Epress -> Artikel
DT Next -> Artikel
The Hindu -> Artikel
---
Musicians: Matthias Schriefl – Brass, Accordion, Voc / Amith Nadig – fl, konnakol, voc / B. C. Manjunath - Mridangam, Percussion, Konnakol
---
Guests:
Sunaad Anoor - Khanjira, Bongos, Kokusnuss, Konnakol / Vinod Shyam Anoor – Mridangam, Tabla, Shaker, Konnakol / Lars Andreas Haug - tuba, sopran sax, flgh, voc / Alexander Morsey – bass, tuba, voc / Sarah Buechi – voc
---
Live-Videos: